Conheça o Opinew
Opinew is a Shopify application that collects product reviews with the option to add photos and videos from customers.
Manage email & SMS review requests & offer coupons to incentivize your clients to leave a review on your shop.
Import from Amazon, Aliexpress, and Ebay, and make your shop busy from the start.
Display your product reviews using our highly customizable widgets and start increasing your store's social proof today!
Quem usa o Opinew?
Opinew is perfect for Shopify eCommerce merchants looking to boost their conversions and store authority in a quick, easy-to-use way. We are paving the new way for review management on Shopify.
Opinew - Informação
Opinew
Opinew - Informação
Opinew
vídeos e imagens do Opinew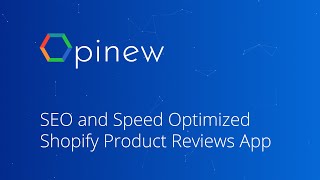 Compare o Opinew com produtos similares
Preço inicial
9,00 US$/mês
N/D
50,00 US$/ano
199,00 US$/mês
Opinew: implantação e suporte
Assistência
Email/Help Desk
FAQs/Fórum
Base de conhecimento
Assistência 24/7
Bate-papo
Implantação
Nuvem, SaaS, baseado na web
Mac (desktop)
Windows (desktop)
Linux (desktop)
Formação
Ao vivo online
Webinars
Documentos
Vídeos
Recursos do Opinew
API
Acompanhamento de atividades
Alertas/notificações
Análise de dados em tempo real
Análise de dados visual
Análise de sentimentos
Bate-papo/Mensagens instantâneas
CRM
Campanhas multicanal
Classificações/avaliações
Comentários/notas
Compartilhamento social
Compras e recebimento
Dados em tempo real
Gerenciamento de SEO
Gerenciamento de comentários
Gerenciamento de comentários negativos
Gerenciamento de e-mails
Gestão da comunicação
Gestão de campanhas
Gestão de experiência do cliente
Gestão de modelos
Gestão de pesquisas/enquetes
Gestão de respostas
Gestão dos selos de avaliações
Imagem de marca personalizável
Importação/exportação de dados
Indicadores de desempenho
Integração de redes sociais
Integração de site
Integrações de terceiros
Lembretes
Lembretes por e-mail
Mensagens de SMS
Modelos personalizáveis
Monitoramento
Monitoramento de revisões
Notificação de avaliações
Notificações em tempo real
Painel
Painel de atividades
Promoção social
Questionários e feedback
Rastreamento de engajamento
Relatórios e estatística
Relatórios personalizáveis
Solicitação de avaliação
Várias localizações
Vários idiomas
Widgets
API
Agendamento de campanhas
Agendamento de postagens
Análise de dados de campanhas
Análise de dados visual
Análise de sentimentos
Geração de avaliações
Gerenciamento de SEO
Gestão de campanhas
Gestão de conteúdo
Gestão de experiência do cliente
Gestão de modelos
Gestão de reclamações
Gestão de respostas
Hashtag Tracking
Integração de redes sociais
Integrações de terceiros
Inteligência artificial e aprendizado de máquina
Mensagens de SMS
Monitoramento das redes sociais
Monitoramento de revisões
Monitoramento em tempo real
Notificação de avaliações
Notificações em tempo real
Pesquisa e filtro
Questionários e feedback
Rastreamento de engajamento
Rastreamento de marca
Rastreamento de palavras chave
Relatórios e análise de dados
Relatórios personalizáveis
Review Display
Review Sharing
Solicitação de avaliação
Várias localizações
Widgets
Tahmi D.
Owner in EUA
Usuário do LinkedIn Verificado
Roupa e moda, Profissional autônomo
Usou o software para: Mais de um ano
Great product for a good price
Vantagens:
One of the things that I like most about Opinew is the ability to pull in reviews for my items that are on other platforms. It really makes moving customers from a marketplace to my own website easier when I'm able to show that social proof. And Opinew also makes it easy to get reviews from the sales on my website, offering branded email options to send out to customers asking for reviews as well as offering the ability to give customers discounts on future purchases when leaving a review. Their support is top notch, not only helping me to get my Shopify templates correctly set up the first time, but also helping when subsequent template updates need tweaks as well.
Desvantagens:
The one thing I wish Opinew did better would be to make it easier to share good reviews on social media like other review software does. But I have templates for social media posts made in Canva, so it's not that difficult to paste in good reviews and make posts out of them.
Oscar F.
Product Director in México
Software, 2-10 funcionários
Usou o software para: Mais de um ano
Way more than we expected!
Comentários: We're a small software development agency, and we've had to set up Shopify shops for many clients. With all the limitations that Shopify has as a platform, Opinew's tools have been very useful to make sure the styles are how they are meant to be and the products/shop look trustable.
They have so many features but right now I remember once when the printed reviews and coupons came in very handy with this client that needed to ship the products but also wanted to get feedback.
Another thing: Opinew is a big boost for the SEO.
Vantagens:
First, how easy it is to customize to the theme's style, anyone can do it. Also, how it imports reviews to a product from different providers (Amazon, E-bayd, AlliExpress), and how these reviews give the website a way more trustworthy overall look. We love it.
Desvantagens:
I'd love to see different kinds of widgets such as viewing the most recent reviews but, to be honest, we're happy with the ones they have.
Liz F.
Director of Marketing in EUA
Publicidade e marketing, 11-50 funcionários
Usou o software para: 6 a 12 meses
Great Customer Service
Vantagens:
How quickly customer service gets back to me (within minutes via chat)
Desvantagens:
The pricing, alot of add on features/ upgrades
Serviços de eventos, 2-10 funcionários
Usou o software para: Mais de dois anos
Great Review Management System and Importer
Comentários: Overall, we are a long standing customer of Opinew and have build a great relationship with the team. We are impressed with the cadence in which they update the platform, and with the great support they provide to new customers. Because of that, when working with new shops/merchants, we are confidently recommending Opinew as the tool of choice for powerful review management and importing on Shopify.
Vantagens:
We have been using Opinew for more than two years now. The product keeps on improving with new feature updates, integrations, and partnerships announced all the time. After carefully reviewing other review apps in 2019/20, we identified Opinew as the one to use and recommend to our merchants. Their support is very helpful, friendly and available around the clock (which saved us a couple of times already). Opinew has a very comprehensive feature set, that includes: * multiple review widgets for the shop website * ability to include photos/videos in customer reviews * automated review requests (email, sms, printed) * great review management functionality * coupon creation/use for review incentivisation Moreover, Opinew is also offering very powerful import functionality to anyone who is moving shops from another platform like Amazon, Ebay or Aliexpress. These features include: * Amazon, Ebay, Aliexpress review imports * automated review synchronisation * review migration/import from other review apps * Chrome plugin for bulk import of product reviews The review importer functionality, especially with the Chrome extension, is a power tool for anyone who needs to import reviews. Many of our dropshipping merchants are using Opinew with Oberlo to set up online shops in minutes. Import products with Overlo, import reviews with Opinew, and start selling. Opinew has been a great platform for many years now that we thoroughly recommend.
Desvantagens:
As mentioned above, the Opinew system is very feature rich. For new users the number of features (widgets, automations, importers) can sometimes be daunting at the start. However, with recent improvements/updates to user onboarding and the help centre, we do not perceive this to be an issue. If a user gets lost at any point, then the Opinew customer support will be there to help and guide them through the system.
Artigos de luxo e joias, Profissional autônomo
Usou o software para: 6 a 12 meses
Excellent Website/Product Review App for Shopify Stores - Outstanding Customer Service
Comentários: Very positive and they are very responsive to requests for help and listening to new feature suggestions.
Vantagens:
One of the primary reason we choose Opinew was their ability to import product reviews from our eBay store. The process to match the product review on eBay to the same or similar product in our Shopify store took a while to master, but once we figured it out, it worked very well for us. Their customer service has been HIGHLY responsive!! Very quick to respond, even on weekends and later in the evening. Highly recommend.
Desvantagens:
Our biggest problem in the beginning was lack of clear straightforward documentation on how to setup the product and then manage it day to day. Their documentation has improved in the past few months.