Conheça o Looker
Looker está reinventando a inteligência comercial para a empresa moderna. O Looker funciona da maneira que a Internet faz: baseada em navegador, a linguagem de modelagem exclusiva permite que qualquer funcionário aproveite o trabalho dos melhores analistas de dados. Operando 100% no banco de dados, o Looker utiliza os bancos de dados analíticos mais novos e mais rápidos para obter resultados reais, em tempo real.
A arquitetura aberta e leve do Looker facilita para os desenvolvedores criar, implantar e iterar de forma rápida e flexível os aplicativos de dados personalizados.
Quem usa o Looker?
O Looker reúne as equipes de dados e de negócios, facilitando a exploração e o entendimento dos dados que promovem os negócios.
Onde o Looker pode ser implantado?
Nuvem, SaaS, baseado na web, Mac (desktop), Windows (desktop), Windows (local), Linux (local), Android (celular), iPhone (celular)
Sobre o fornecedor
Google
Fundado em 1998
Bate-papo
Países disponíveis
Austrália, Canadá, Estados Unidos, Reino Unido
Sobre o fornecedor
Google
Fundado em 1998
Bate-papo
Países disponíveis
Austrália, Canadá, Estados Unidos, Reino Unido
Vídeos e imagens do Looker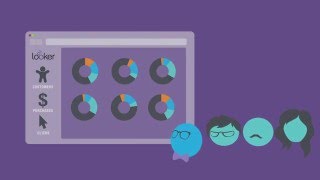 Compare preços do Looker com produtos similares
Recursos do Looker
API
Acesso para Celular
Acompanhamento de atividades
Alertas/notificações
Anotações
Análise de dados do site
Análise de dados em tempo real
Análise de dados preditiva
Análise de dados visual
Análise de regressão
Análise de tendências
Análise estatística
Análise multivariada
Análises de dados comportamentais
Análises de séries temporais
Arrastar e soltar
Atribuição de múltitoque
Atribuição entre canais
Atribuição multicanal
Autoatendimento analítico
Benchmarking
Conectores de dados
Consulta pontual
Controles/permissões de acesso
Criação de painel
Dados em tempo real
Definição e seguimento de objetivos
Descoberta de dados
Descoberta visual
Ferramentas de colaboração
Funções/cálculos
Fusão de dados
Geração pontual de relatórios
Gestão virtual do fluxo de trabalho
Importação/exportação de dados
Indicadores chave de desempenho (KPI)
Indicadores de desempenho
Integração com Aplicativos Terceirizados
Limpeza de dados
Mapeamento da trajetória do cliente
Monitoramento de tempo na página
Monitoramento do KPI
Múltiplas fontes de dados
Orçamentos/Previsões
Painel
Painel de atividades
Painel personalizável
Pesquisa de metodologia mista
Pesquisa e filtro
Planejamento estratégico
Preparação de dados por autoatendimento
Previsão
Processamento de grandes volumes
Rastreamento da interação entre usuários
Rastreamento de ROI
Rastreamento de conversão
Relatórios Interativos
Relatórios agendados/automatizados
Relatórios e análise de dados
Relatórios e estatística
Relatórios para Telemóvel
Segmentação por público
Visualização de dados
Visualização de página simples
Widgets
Nicholas
Director of Analytics, EUA
Usuário do LinkedIn Verificado
Internet, 51-200 funcionários
Usou o software para: Mais de um ano
Alternativas consideradas:
The perfect solution for our stage business
Comentários: I could not be happier with Looker. My one hesitation in recommending it is that other tools seemed to be able to provide 80% of the value at 20% of the cost, but I've only demoed those tools and not actually used them so I'm not sure if they could actually deliver.
Vantagens:
Looker is incredibly easy to use for a casual user, which most of our users are. As soon as your email is activated, you have access to the product and new users need very little direction to start getting value out of it.
Desvantagens:
Relative to other BI tools, the advanced charting functionality is somewhat limited, but frankly that's not the main reason we bought Looker. Data scientists can use another tool of their choice, we have Looker for people who aren't data scientists.
Tara
Product Manager, EUA
Software, 51-200 funcionários
Usou o software para: Mais de um ano
Looker Review
Vantagens:
Easy to create dashboards without engineers needing to write code.
Desvantagens:
Still not very good yet for a multi-tenant embedded environment. Needs a lot of work to set up and the API is slow.
Vincent
Sr Planning Analyst, EUA
Usuário do LinkedIn Verificado
Usou o software para: Mais de um ano
Controlled Analytics Exploration
Comentários: Like I said, it's a great tool for analysts that don't need a lot of flexibility or maybe just aren't used to working with a lot of data. To get the full value out of this software, you'll need a core group of experienced Data Analysts that can learn fast (to learn Lookers Table Calculation code which is similar to SQL) who can build a bunch of dashboards and views. You really don't want people who aren't savvy with data doing a lot of the creating because measures are always aggregated based on the dimensions you pull into each table...if a user forgets to add a specific dimension then measures could show the wrong value. This could be offset by having really good developers who architect the data in a way that doesn't allow this to happen.
Vantagens:
It's a great data exploration tool for users who normally would get anxious when given a large dataset in something like Excel. It's generally simple to use and there can be unlimited Viewers (users at the lowest permissions level) through the enterprise product. Data Visualization is essentially done for you and Exploers (users at the second level of permissions) can build new visualizations & turn them into interactive dashboards. On the Looker platform, Explorers can locate a view (called an Explore) and then are given a list of dimensions and measures they can pull into a table. Users can create new dimensions using calculated fields and then save their views so any users with Viewer permissions (and up) can see what was put together.
Desvantagens:
With simplicity comes lack of flexibility. More skilled data analysts will want more flexibility than Looker can provide but at the same time you need to have highly skilled Data Analysts to be the Developers (high level of permissions) to set up the data so that less skilled analysts (the users who benefit from Looker most) who are Explorers don't build views that grossly misrepresent the data. My biggest pet peeve with this software as an Explorer is that you cannot make calculations on the base data...only the data that you pull into your table (called table calculations). That is a major feature that Tableau has that Looker does not have at the Explorer permission level. Of course developers can use LookML (Lookers data language) to create a new column...but a Developer license is more expensive and creating the fields take time and it's something you constantly will need.
Tanya
Sr. CRM Manager, Alemanha
Saúde, bem-estar e condicionamento físico, 11-50 funcionários
Usou o software para: 6 a 12 meses
Easy to democratise the use for BI to all departments
Comentários: Positive! You can define your logic of measuring and if you have a BI Team any discrepancies are easy to track. Depends on how good the connection with your data warehouse is but for example with Snowflake it worked seamlessly.
Vantagens:
Departments can access data in a consumable form without complexity. Some SQL skills help achieve a lot more with the software, you can write your own queries and get more drilled down data.
Desvantagens:
Some visualisation options (like graphs & charts) were a bit more complex to achieve. Although, the default tables are simple and easy to understand.
Teena
Implementation Specialist / Customer Success, EUA
Usuário do LinkedIn Verificado
Usou o software para: Mais de dois anos
Looker allows everyone in your company, even the less tech-savvy, to make data-driven decisions.
Comentários: We get to force-multiply our impact by making it easy for users in all departments to make data-driven decisions and help allow that to drive their day-to-day.
Vantagens:
I love the customization of Looker, and that you can put large amounts of data into the hands of anyone -- in a way that makes sense [to them]! While their product is great, it speaks volumes to the team. It's an amazing group of people that continue to receive feedback from their customers and iterate time and time again on their product. They truly care about data and their customers, and they want to empower them the best they can.
Desvantagens:
When modeling views, I wish you could define better filters for measures but it's limited. There are workarounds, meaning modeling out several additional dimensions to arrive at the measure you need to pull regularly, but it'd be much more efficient to allow for measures to be more nuanced. Large dashboards (with 25+ tiles) can take awhile to load, which is understandable. Once their "merge results" feature is fully rolled out and we're able to save them as new tiles or looks, it should help resolve the need for so many tiles. Neither of these two things are a big deal, and I wouldn't let this deter you from considering this software.