Conheça o Drip
Send SPOT-ON EMAILS that get opened + discover what brings in the most MONEY.
Drag-n-drop your way to always-BEAUTIFUL emails with 50+ templates and an EASY visual builder.
Email SMARTER (not harder) using INTELLIGENT data + SUPERHERO-LEVEL segmentation.
Access 55+ pre-built email WORKFLOWS and advanced workflow SPLIT TESTING (designed around industry best practices + HIGH-CONVERTING logic).
Try Drip FREE for 14 days (no credit card) → Nail your EMAIL + POPUP MARKETING → Grow YOUR brand bi
Quem usa o Drip?
Everyone's FAVORITE EMAIL MARKETING platform, Drip is the winning solution for growing ECOMMERCE brands looking to nail their email + popup game and experience ENGAGEMENT + GROWTH like never before.
Onde o Drip pode ser implantado?
Nuvem, SaaS, baseado na web
Sobre o fornecedor
Drip
Localizado em Minneapolis, EUA
Fundado em 2013
Bate-papo
Sobre o fornecedor
Drip
Localizado em Minneapolis, EUA
Fundado em 2013
Bate-papo
Vídeos e imagens do Drip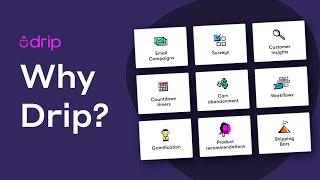 Compare preços do Drip com produtos similares
Recursos do Drip
API
Alertas do celular
Alertas/notificações
Análise de dados de campanhas
Automação de marketing
Ações ativadas por eventos
CRM
Campanhas gota a gota
Campos personalizáveis
Captura de leads
Conformidade com CAN SPAM
Conteúdo dinâmico
E-mail otimizados para celulares
Editor de WYSIWYG
Gerenciamento de contatos
Gerenciamento de listas
Gestão de assinantes
Gestão de campanhas
Gestão de campanhas por e-mail
Gestão de conteúdo
Gestão de leads
Gestão de modelos
Integrações de terceiros
Marketing de multicanal
Marketing por e-mail
Marketing social
Mensagens de texto em massa
Modelos personalizáveis
Múltiplas campanhas
Planejamento de campanhas
Páginas de início/formulários web
Qualificação de leads
Rastreamento de ROI
Rastreamento de conversão
Rastreamento de engajamento
Rastreamento de interações
Rastreamento de recomendações
Rastreamento de visitantes do site
Relatórios e análise de dados
Relatórios e estatística
Segmentação
Segmentação de clientes
Testes A/B
Chetan A.
Director, Índia
Usuário do LinkedIn Verificado
Roupa e moda, 2-10 funcionários
Usou o software para: 1 a 5 meses
Alternativas consideradas:
Drip Is A Great Email Marketing Software
Comentários: It was a nice overall experience with the Drip. My team used this tool as the best source of our revenue.
Vantagens:
We used Drip last entire year, for our email promotions and automations. It's the great tool I used so far.
Desvantagens:
It's not 100% complete as per my experience of use so far. I liked the features, but it's should be more way better.
Avaliador Verificado
Director of Marketing, EUA
Usuário do LinkedIn Verificado
Varejistas, 11-50 funcionários
Usou o software para: 1 a 5 meses
Alternativas consideradas:
So many possibilities with Shopify
Comentários: Drip solved problems we didn't even know we had. For example, we are able to automate a lot of our social and email marketing through Drip before a team member takes leave of absence so things aren't going to hurt as bad for the team as a result. We could not do that previously and would have had to leave money on the table while they were gone (we are a small company.) Currently we have really just focused on our brick and mortar business with Drip but I anticipate when we ramp it up for our ecomm store we will see some really interesting results there too. Our overall experience has been very positive.
Vantagens:
If you sell a lot of different types of products and customers, Drip's ability to help you segment people automatically is amazing. We switched from MailChimp to Drip when Shopify broke and MC broke up but we also needed something more robust for our click and brick as our ecomm started to take off. I love that you can trigger events based on actions like when a subscriber clicks on a certain page on your website and the Facebook custom audience integration is very useful and has upped our targeting strategy on social too. Looking back on what we were doing with MailChimp vs. Drip, I kind of just laugh. They're hard to even compare. This is a full blown marketing and CRM suite and Mailchimp just sends emails. I still feel like I have more I can learn and do with Drip which is exciting. Support is very helpful and quick.
Desvantagens:
The email builder is improving but needs work still-you need to really inbox test because it will not save you from yourself. Images are skewed in some email clients if you check the "constrain image" box for example, so don't check that box! There are some other weird bugs in it but they just came out with a new version which is for sure an improvement. You can now select your products from your Shopify store which is HUGE but I would love more flexibility on integrating products and collections dynamically. The alt text doesn't work in the builder which seems weird to me and I don't have a big enough team to hand code the amount of eblasts we send. I want to add I don't think this is for the casual marketer. In other words, you could get overwhelmed very easily by the bells and whistles so while this is awesome for marketing automation geeks, I would make sure it isn't too complicated for your business goals.
Chhaya S.
CEO, Índia
Usuário do LinkedIn Verificado
Fabricação de alimentos, 11-50 funcionários
Usou o software para: 6 a 12 meses
Drip- Marketing Automation tool with easy user interface
Comentários: Through our experience so far, Drip has been a very effective tool for both increasing sales and keeping user engaged with our product.
Vantagens:
Drip has proven to be a very effective marketing automation tool in our organization for accelerating the sales. The Drip platform make it easy to create landing pages, responsive email templates and build customer journeys.
Desvantagens:
Additional integration with third party tools. I hope the email builder continues to improve.
Eugen P.
Java Consultant, Roménia
E-Learning, 11-50 funcionários
Usou o software para: Mais de dois anos
State of Drip - post LeadPages acquisition
Comentários: Drip used to be great. Really great. I've been with them since the very early days and I never had any problems. Plus, their support was excellent.
Unfortunately, after the LeadPages acquisition, things started getting progressively worse. Not right away, but slowly, automation started failing, workflows would get stuck, or simply not fire for no particular reason, etc. And support times got slowly worse until the crazy point we're at today, with support getting back with feedback after more than a week almost each and every time.
I never thought I'd be writing a negative review for Drip of all things. But, here I am, planning my migration.
Vantagens:
The automation is top-notch. When it works.
Desvantagens:
The automation simply doesn't work all the time. For now particular reason, workflows get stuck, or just don't fire. Tags get applied twice. And support is, well, they're just not there. The support wait-times on my last few issues was litteraly always 8-9 days until the first answer from them.
Resposta do Drip
há 4 anos
Hello, Eugen, Thanks for putting your trust in Drip these past few years and for taking the time to tell us about your experience. The truth is that we¿ve been growing pretty quickly this past year, and our own growth kind of outgrew our support britches for a little while. That being said, we¿ve been busy expanding our support squad. While support had previously been offered from 9 am ¿ 5 pm, M¿F, we¿re now helping people an extra 20 hours per week from 7 am ¿ 7 pm, M¿F. This has cut our support response time significantly, and our No. 1 aim is to help answer everyone¿s questions well within the 24-hour mark. We don¿t ever want people to feel like they¿ve been left hanging, and we¿re sorry you¿ve felt some pangs as we grow. We haven¿t been seeing any issues on our end in regard to automations working, but we¿re hoping that we¿ll be better able to answer your concerns with our extended support. Thanks again for your review and for riding along with us as we grow.
Roxana M.
Head of Marketing, Roménia
Publicidade e marketing, 11-50 funcionários
Usou o software para: Mais de dois anos
This has been our only tool for emailing from the very beginning!
Comentários: We've been loyal customers ever since we started SocialBee.
Vantagens:
I love how easy it is to send newsletters and set workflows for different users/ leads.
Desvantagens:
We'd like to have the drag and drop feature for worflows.