Conheça o Vagaro
Aumente sua produtividade e libere seu tempo com o Vagaro. Programe compromissos a partir de um computador ou use o Vagaro Pro App para gerenciar clientes em qualquer lugar. Faça reservas no mercado
Leia mais
de beleza, na sua página de reservas, no Facebook, Yelp, Instagram ou no seu próprio site através do widget de reservas. Envie lembretes e e-mails automatizados. Gerencie pacotes. Efetue pagamentos com segurança. O Vagaro Pro é o aplicativo Apple & Android mais baixado e avaliado. O preço é a partir de US$ 25,00 por mês. Cadastre-se agora para uma avaliação gratuita de 1 mês.
Ver menos
Quem usa o Vagaro?
Proprietários de academias de atividade física, escolas de dança, estúdios de pilates, estúdios de ioga, salões ou spas. Há também site de reservas, página de pesquisa e aplicativo personalizados com sua marca, de acordo com suas necessidades.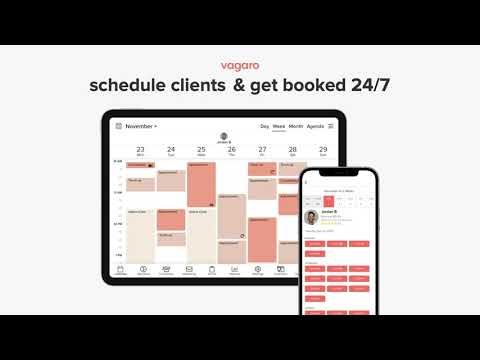 Not sure about Vagaro? Compare with a popular alternative
Not available in your country
Versão gratuita
Versão de teste gratuita
Versão gratuita
Versão de teste gratuita
Christie
Owner
Usuário do LinkedIn Verificado
Esportes, Profissional autônomo
Usou o software para: Mais de dois anos
Makes My Business & Life Scheduling Much Easier
Legendas em português disponíveis no player de vídeo
Frank
Licensed Massage Therapist, EUA
Saúde, bem-estar e condicionamento físico, Profissional autônomo
Usou o software para: Mais de dois anos
Fonte: SoftwareAdvice
My pros and cons on Vagaro
Comentários: My overall experience so far, with Vagaro is really good. I would recommend them to other massage business and massage therapists. I have had no issues or concerns, with any issues I've had, support has always been extremely professional and helpful in every way.
Vantagens:
I love the confirmation and waitlist features the most, because it prevents me from having to physically keep track of client's and my schedule openings. I like having everything integrated in the software; i.e., scheduling, payments, confirming, color coding, the waitlist, etc. Also their Customer Service Support is outstanding!!
Desvantagens:
I really wish the software would have an Add-on feature. I don't like having to integrate the Add-ons into my actual services, because it put the Add-on as a separate scheduled appointment. The other feature I don't really like is having to pay for Marketing and Texting features, of which there are different tier levels. Wight Massagebook it was all included. These are my biggest dislikes of the software.
Avaliador Verificado
Owner, EUA
Usuário do LinkedIn Verificado
Medicina alternativa, 2-10 funcionários
Usou o software para: Avaliação gratuita
Alternativas consideradas:
Many great features, excellent customer services, and small areas that can improve
Comentários: So far, this software is above and beyond our previous two companies. They seems very willing to change and add features, as well as helpful in onboarding and migrating our business into their system. They were even able to import reviews!
Vantagens:
There are many optional add-on features. This allows us to do things like add forms, accept payment, and have a waitlist. These are super helpful features and it is nice to know if we don't need them we can cancel them.
Desvantagens:
The software is a bit slow, and challenging when it comes to customer management. I have gotten some errors around adding customers with "existing email addresses" even though they can't find the email in the system.
Serviços ao consumidor, Profissional autônomo
Usou o software para: Mais de dois anos
Fonte: SoftwareAdvice
Alternativas consideradas:
Great Scheduling System for both provider and clients
Comentários: I have been using Vagaro for about a decade now. I would say that if your looking for a scheduling system and the ability to have your clients book online and also receive reminders than Vagaro is perfect for you.
Vantagens:
I like that fact that clients can schedule anytime. I also like the fact that on my voice mail I inform new and existing clients of the website. This is very helpful because I can't always answer the phone. This gives the clients more option and the ability to look at my schedule and make an appointment that meets the clients needs.
Desvantagens:
It was difficult using the Merchant Services to take payments. The price was in line with some of the other providers such as Square. Before taking payments from clients, I wanted to make sure it work. I used my debit card to charge $1.00. After I did that and started taking payments they froze my account, noting that I violated the Merchant Service agreement. It took several months to get this resolved. I had to find out which company Vagaro was using to process Merchant Services. I had to call so many times as well as write and mail out demand letters to get my founds. I found that it was less expensive going with one of the major processors such as First Data and Fiserv Merchant Services. I also was not impressed with Vagaro's customer service. I had issues with their Merchant Services as well as some other customer services issues. As I have been using Vagaro for the past decade I would have hoped that their customer service would be much better. Don't expect much from the customer service team or the management.
Molly
Salon Owner/Esthetician, EUA
Serviços ao consumidor, 2-10 funcionários
Usou o software para: 1 a 5 meses
Alternativas consideradas:
Is Varago is good for your company?
Comentários: With Vagaro the purpose was always selling time. FIlling up the white space on the calendar with clients and making sure you did that as efficiently and productively each day as possible in order to create growth and profit for the company. Vagaro is a tool in which you are able to do that. But for bigger salons that need more details, reports, numbers, it does fall bit a short.
Vantagens:
I liked that this system was super simple and straight forward. It is very easy to switch over to Vagaro from another company which is what we did. The ease of use is definitely a plus but it also was a reason why we left. It was not very detailed on other aspects that we needed more options and attention on.
Desvantagens:
I love a software company that has a well developed app for it's salon users. This is important for the team because they use this every hour to see and check their schedules. I think also the reports should have been more detailed and intricate but they may have improved that at this time. I don't think anything was difficult to use but because of it's ease of use, it meant that the software didn't really allow for as much information and details as we needed at the time to run a salon aiming towards growth. Things were hard to find or figure out because it wasn't provided in the reports or we had to add other features from outside companies to make up for lacking features.
Resposta do Vagaro
há 2 meses
Thank you for the feedback, we love to hear that our software is easy to use. We recently released updates to our reports section based on the feedback that businesses were looking for more intricate data. You can check what other features we are currently working on here: https://feedback.vagaro.com/forums/915991-feature-requests
Saúde, bem-estar e condicionamento físico, 2-10 funcionários
Usou o software para: Mais de dois anos
Fonte: SoftwareAdvice
Alternativas consideradas:
Vagaro Love (it's a real thing)
Comentários: Great, great. I love Vagaro. Like, sincerely hands-down I am fan all the way. It's format is user friendly for my clients and my staff to learn. The vagaro university on YouTube is so useful. Of course, their customer service rocks. The learning curve with my previous CRM was painful and long. Vagaro is a joy to work with.
Vantagens:
The customer service. The majority of reps are great and very helpful. I also love the a la carte pricing, it makes it so much more affordable and you can add what you need as you grow. I also love how they are consistently adding new features. I also feel like they listen to user feedback and implement changes. Vagaro University on Youtube is great! The electronic forms are a lifesaver to help enforce our cancellation/refund policy. Thanks to Vagaro I could run my business with peace of mind and be seen as more professional by the public.
Desvantagens:
I wish the logging in part was faster for the client and also it feels like the experience is more on vagaro than our brand. I would like the option to create a brand app more affordable. Also, if a client already has an account from another user, it erases the information placed it by me and makes me start all over. I would also like the client to add their mailing address and date of birth on their intake. The mailing address is an important aspect of our marketing. I wish the star rating on employees could be a feature that could be turned off or on. At times, it makes it hard for newer therapists to get bookings.
Resposta do Vagaro
há 4 meses
Hello Michelle. We appreciate your review. If you would like to discuss these issues further, please reach out to [email protected] Thanks so much for the kind words!