Conheça o Paymo
O Paymo é um aplicativo de gestão de projetos moderno e intuitivo para empresas baseadas em projetos e autônomos, que agrupa gestão avançada de tarefas, planejamento, programação, controle de tempo, colaboração e faturamento. Isso significa que você pode acompanhar todo o tempo de duração de um projeto, desde a criação até o pagamento, sem ter que usar e pagar por vários aplicativos.
Quem usa o Paymo?
Pequenas e médias empresas baseadas em projetos (agências de publicidade e marketing, agências de desenvolvimento e design para a Internet, ONGs, universidades, assistentes virtuais, etc.) e autônomos.
Onde o Paymo pode ser implantado?
Baseado na nuvem
Instalação local
Preço do Paymo
Preço inicial:
5,95 US$/mês
Sim, oferece teste gratuito
Sim, oferece versão grátis
O Paymo possui uma versão gratuita e oferece versão de teste grátis. Versão paga do Paymo a partir de 5,95 US$/mês.
Planos de preços
consiga uma avaliação gratuita
Vídeos e imagens do Paymo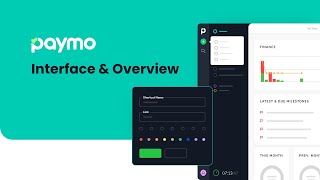 Recursos do Paymo
Acesso para Celular
Acompanhamento de atividades
Agendamento de projetos
Agendamento de recursos
Agendamento de tarefas
Alertas/notificações
Aplicativo móvel
Arrastar e soltar
Banco de dados de contatos
Calendário de marketing
Cobrança e faturamento
Comentários/notas
Compartilhamento de arquivos
Contabilidade básica
Controle de despesas
Controle de horas
Controle de horas e despesas
Controle de marcos
Controle do progresso de tarefas
Controle do tempo do projeto
Controle e acesso remoto
Controles/permissões de acesso
Criação de faturas
Códigos/ícones com cores
Dados em tempo real
Edição/atualização de tarefas
Etiquetagem de tarefas
Faturação online
Ferramentas de colaboração
Ferramentas de produtividade
Gerenciamento de documentos
Gestão de atribuições
Gestão de calendários
Gestão de capacidades
Gestão de carteira
Gestão de orçamento
Gestão de projetos
Gestão de recursos
Gestão de tarefas
Gestão do fluxo de trabalho
Gestão do quadro de horários
Goal Setting/Tracking
Gráfico de barras
Histórico de faturas
Horas faturáveis e não faturáveis
Implantação baseada na web
Marcação
Modelos personalizáveis
Monitoramento de tempo online
Monitoramento do progresso
Múltiplas moedas
Notificações em tempo real
Painel de atividades
Para agências criativas
Para pequenas empresas
Planificação/Programação de projetos
Portal do cliente
Priorização
Processamento de faturas
Quadro kanban
Rastreamento de percentual de progressão
Rastreamento do projeto
Relatórios e análise de dados
Relatórios e estatística
Seguimento de relatórios/projetos
Seguimento de status
Suporte remoto
Visualização
Visualização de Gantt/linha do tempo
Henrique
Engenheiro, Portugal
Usuário do LinkedIn Verificado
Construção, 11 - 50 funcionários
Usou o software para: Avaliação gratuita
Ótima ferramenta para organização de trabalhos
Comentários: Rapidamente consegue-se saber qual o ponto de situação de qualquer projeto.
Vantagens:
Software muito fácil de usar para gestão/organização de projetos.
Desvantagens:
Não tenho, até ao momento, nenhuma observação crítica ao software.
Krystle Chanel
Owner, EUA
Usuário do LinkedIn Verificado
Publicidade e marketing, Profissional autônomo
Usou o software para: 6 a 12 meses
I finally found the one!
Comentários: It is important to note that Paymo isn't idle in enhancing its software. Not only that, but new features are thoughtful and integrated seamlessly with the tool. I appreciate this because I have used other software that seem to have their priorities mixed up when releasing enhancements; adding things that don't move the needle ahead of things that do.
Vantagens:
After years of using project management software for both myself and companies I've worked for, I found the right tool for the job for my personal, small business as a marketing coach and online entrepreneur. Until I build a team, I'm using Paymo for myself, and other tools are not always price-sensitive for a solo user. I appreciate that Paymo provides an option to pay for one user until I'm ready to grow. A particular feature I was looking for was the option to view all projects on a single Kanban board. In the rare case that I found this option, it was a significant upgrade to acquire. But Paymo offers this and it's super easy to use! Other features I love: - Time-tracking/timesheet: Visual representation of where my time goes. I use the in-app timer every day. - Flexible viewing options: I can easily switch between list, table, board, and Gantt views, with easy to use filters that allow me to see exactly what I want. No custom reports or views need created - which can be time-consuming and inflexible (enterprise tools). - Note: The user experience of the Gantt chart was also what I was looking for. It is drag and drop and allows you to adjust your timeline from within the view. There's so much to love about Paymo! And that is saying a lot coming from someone who has researched and used as many tools as I have - including enterprise solution, Workfront. Paymo is definitely worth giving a try!
Desvantagens:
I wish there was a way to invite collaborators/reviewers like there is in Asana. If I want a coaching client to be able to collaborate, there is no way to do this without paying for another user. This is superficial, but, the name! When I tell people about Paymo, they immediately think it's a financial tool, not a project management tool, based on the name. I would hate for this to hold Paymo back in the market.
Alternativas consideradas: Teamwork, Airtable, Trello, Microsoft Project, monday.com, Adobe Workfront, Asana e Things
Razões para escolher o Paymo: I switched from Asana, Teamwork, and Things. I was looking for a tool with a kanban board option that allowed me to view tasks across all of my projects and I needed a cost-effective tool for someone who is currently solo but building a business. Asana was cost-prohibitive in that I could not pay for a single user, but had to pay for 5 minimum. Also, the kanban board option I was looking for was an additional upgrade for Asana and Teamwork, making these options even more expensive. Additionally, user experience was a factor. Asana generally has a good UI but I just like Paymo better. Teamwork has some work to do in this regard.
Software anterior: Asana
Resposta do Paymo
há 3 anos
You sure did your researh, Krystle, thank you for the review :) Actually, we're working on an improved client portal with in-app access to guest users, so they can collaborate with you on the same page. This is our #1 priority atm, so stay tuned! As for our name, this goes back more than 10 years when we started out as a time tracking and billing tool. The purpose was to use the app and GET PAID MORE, hence Paymo :) Hope this helps, thank you again!
Marianela
Water Treatment Consultant, Panamá
Usuário do LinkedIn Verificado
Química, 51 - 200 funcionários
Usou o software para: Mais de um ano
Paymo represents agility in the execution of projects and quality assurance.
Comentários: Paymo is an effective platform, which does not require a learning curve on the part of the people who use it, in addition to the fact that many business rules associated with the execution of projects are already implemented. On the other hand, we have visibility for the prioritization of tasks, the notification to the participants of each activity, and in general, Paymo can grow based on the needs and projects that our organization can handle.
Vantagens:
Paymo focuses on providing a simple and efficient platform, with the implementation of those functionalities that really generate value, in addition to offering a fairly complete Dashboard for generating reports and useful information for stakeholders. With Paymo we keep our work team focused, in addition to having the mobile APP to be able to record progress directly from where we are, in real time, and notify about progress. People and users can work on more than one project at the same time and each of them knows the tasks they must perform, the times in which they want the activities to be completed, as well as being able to attach support information.With Poymo we can register with the Timer option the work dedicated to each activity and in this way we can give greater visibility to the Project Management.
Desvantagens:
Paymo has demonstrated that it meets the objectives of any project, and they are precisely: being able to offer visibility for the fulfillment of each and every one of the tasks, also guarantees that team members have delivery dates at hand and can report the advances, considering the participation of multiple projects, however, it may be that for more complex projects in which team management, use of tools and acquisition of supplies for execution are required, project managers require other complementary tools such as sheets calculation to manage what we cannot detail from the software itself, however this does not apply to all projects and may or may not be a limitation in many service areas related to traditional activity tracking.
Publicidade e marketing, 2 - 10 funcionários
Usou o software para: 1 a 5 meses
Monopolize you cause you can't export ANYTHING easily
Comentários: Would NOT recommend it to anyone who has even the slightest of "outside the box" process for projects or billing/invoices.
Vantagens:
Yet another system that after several months of use only did what we needed it too at 75% of the way, then AFTER buying into the "huge discount" and special they had going, did I find out they do not allow refunds at all! If you put ANY data into the system and ever need to export it for any reasons ...find a data entry person and hope you didn't enter a lot of information because unless you are a developer that can setup custom API's...your info is stuck in their system! You can enter clients, companies, etc. and change view to "Table" and see it in table mode, but that view still only gives you the general company information, NOT the contacts for that company and that is 1 of 2, yes that is right 2 places in the entire system of everything you may have entered where you can download/export that view into Excel/CSV file....everything else is PDF if you are lucky!! If you are a VERY small, VERY basic bookkeeping/accounting freelancer (NO TEAM, just you and very basic billing) - fine, it may work...but if you have more than 1 person in your team other than you, have different rates or even the SLIGHTEST out of the norm billing or cycles...GOOD LUCK!!! I am furious with this system after being told what it could do and I explained in detail, and "oh yeah, that is not a problem at all"...only to find out, everything I explained about what we needed, went in one ear and out the other just to make the sale...now I have a barely usable system and wasted $$$$!!
Desvantagens:
Can't export anything unless you have a developer standing bye. System is very "inside the box" thinking even after being told it would easily do what I had explained that I needed it to do support seems to take longer than usual and they are quick to respond with an answer that has NOTHING to do with what you originally asked (bots maybe?!?!) Can't get a refund, no matter how many lies they told you to make the sale in the first place!!!
Resposta do Paymo
há 3 anos
Hi Cameron, Sorry to see you disappointed. Our goal is to help you improve the way you work, not to sell you on something. Indeed, you can export client, project, user lists, as well as time reports in csv format - invoices and Gantt Charts are available in PDF only. However, due to the fact that there's no standardised data structure for project management data, the only practical way to export it is via our API. And no, we're no bots, and don't force anyones hand to make a sale.
Publicidade e marketing, 2 - 10 funcionários
Usou o software para: 1 a 5 meses
Paymo is the easiest project/billing/payment platform I've ever used and their support is fantastic.
Comentários: I spend half as much time getting things done in Paymo compared to my last system (Bonsai). My old solution wasn't horrible, it's just that Paymo is so much better.I'm spending less time in the software because everything's seamless, and that's with my number of projects more than doubling right around the time I was onboarding. Seriously, the support has been fantastic.
Vantagens:
Before I talk about my experience with individual features, it's super important to me to say how incredibly responsive and helpful Paymo's support team is. Throughout my onboarding process, we ran into a few issues (some my fault, and a couple small glitches on Paymo's side), but their support team is the best I've ever had. They're fast, helpful, and are serious about taking care of me. Shout out to [sensitive content hidden], who have both been so helpful! The entire reason I switched to Paymo (from Bonsai) was because my old solution was so frustrating in locking me into dumb processes from Project > Tasks > Estimate > Complete Tasks > Invoicing, it was a nightmare. I have retainer clients that will send us a set of small 1 or 2 hour quick tasks, but billing against them was a nightmare because of how Bonsai locked you into their Step 1, step 2, step 3 process.Paymo doesn't get in my way like Bonsai did, it's soooo much easier to track time, capture a subset of timesheet hours into an invoice, and send it on. No kidding, Paymo saves me about 15 minutes on every invoice I sent and probably saves at least 30 minutes for each estimates/quotes.The Paymo macOS app is phenomenally convenient for tracking time on projects. I will never again be without a time tracking app like Paymo, I've recaptured so many lost billable hours by using it.Their Paymo Payments system has worked great for me. I don't have all that much to comment on because it's just seamless for the client.
Desvantagens:
I ran into some issues when signing up for their payments system (their payment system works great, this is just the sign-up process). At the time, I was a sole proprietorship and I don't think their processes were tuned that well for my type of business because I had to send in a lot of documentation to get approved (I think it was for fraud prevention measures).BUT, I want to say [sensitive content hidden] was so helpful, and really made it her mission to handle it and get it pushed through, which she did. And she's also lovely and friendly to talk to.There have been one or two other small glitches I ran into that were both handled by support immediately. Neither of them were mission-critical or blocked anything I had to get done. Bpgo
Alternativas consideradas: TimeCamp, FreshBooks, Harvest e Clockify
Razões para mudar para o Paymo: It did everything I needed it to and then some, but it was still simple and well thought out. Every feature is a real feature, there's nothing that's been shoehorned in or half-baked. Also, the workflows are really flexible, so I'm not stuck in "their process", I can use my own preferences and workflows.