Conheça o Flip PDF
Flip PDF is a powerful flipbook maker for e-catalogs, online magazines, digital brochures, and eBooks. This digital publishing software makes it easy and simple for designers, publishers, advertisers, entrepreneurs, and trainers to create stunning page-flipping publications and distribute via websites, email, iPad, smartphones, and social networks. With Flip PDF Professional, users can easily enrich their publications with YouTube/Vimeo video, animation, and photo gallery.
Quem usa o Flip PDF?
Cloud-based eBooks creator that helps businesses convert PDF magazines, brochures or catalogs into interactive and multimedia-based eBooks.
Onde o Flip PDF pode ser implantado?
Mac (desktop), Windows (desktop)
Sobre o fornecedor
FlipBuilder
Fundado em 2010
Idiomas
Sem informação do fornecedor
Sobre o fornecedor
FlipBuilder
Fundado em 2010
Idiomas
Sem informação do fornecedor
Vídeos e imagens do Flip PDF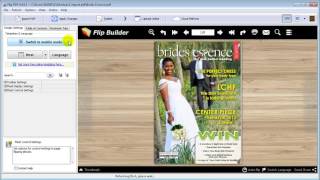 Compare preços do Flip PDF com produtos similares
Recursos do Flip PDF
Biblioteca de conteúdo
Criação de catálogo
Gestão de conteúdo
Gestão de preços
Layout e design
Personalização
Pesquisa e filtro
Anthony M.
Owner/Director, Irlanda
Usuário do LinkedIn Verificado
Design, Profissional autônomo
Usou o software para: Mais de dois anos
Great Software Great Support
Comentários: Excellent.... just easy to use, effective software. [SENSITIVE CONTENT HIDDEN] at Support is a great help also. Very helpful and responsive.
Vantagens:
The speed at which it take your PDF file... and in a few mins your publication could be live online looking glorious and interactive... literally 5mins from start to finish.
Desvantagens:
Has occasional bug errors... but has never stopped me making a successful publication. Hopefully will be fixed in future software updates.
Steph M.
Brand Manager, EUA
Software, 51-200 funcionários
Usou o software para: 1 a 5 meses
Alternativas consideradas:
A solid option for budget-conscious marketers
Comentários: Flip PDF is allowing us to transform large PDFs into professional, web-friendly eBooks while staying within our allotted marketing budget.
Vantagens:
I like that the software is not subscription-based. We don't do a ton of eBooks, so this is a great option for limited-budget marketing team.
Desvantagens:
It took quite a bit of trial and error before I figured out how to format the book. Once I did, it worked fine, but future versions would benefit from a more user-friendly interface.
Avaliador Verificado
Publisher, Canadá
Usuário do LinkedIn Verificado
Editoras, 2-10 funcionários
Usou o software para: 1 a 5 meses
Continuing Audio Challenges with this User-Friendly Multi-MediaSoftware
Comentários: Technical support from Hong Kong has been frustrating - very small window of awake time for sending and receiving messages immediately because of the time zone difference. The person assigned to my account has not been able to solve my audio challenges on her own and we have been held up on publishing our very first Flip PDF for [SENSITIVE CONTENT HIDDEN] because of this. She should have had ready answers to my questions AND they should also be FAQ, e.g., should be stated that the audio format must be mp3 -- it took me a good week to get this vital information when I was using another extension. Then I did not get a clear answer to how to assign audio variably to single and double pages -- another FAQ should state that sound must be attached to single or double pages for the whole Flip book and user cannot mix single and double pages. I had to figure this out myself. Also no clear answer as to when Flip PDF will get updated to include a download function. I'm still waiting for a response to my query about the alternative for Flipbook sales when there is no download function. Access to a link is not a viable option for unique access to a publication. I am dissatisfied that no way to contact the supervisor or administrator for Flip PDF either by email or phone when the person assigned to me is clearly out of her depth. The last message she sent me was a screenshot for setting the playback function to zero, which is not even available in my version.
Vantagens:
Flip PDF meets the needs of our multi-media niche publishing company dedicated to the healing arts because it allows integration of text, audio, video, and hyperlinks into a flipbook. Also, user-friendly in that a moderately computer-savvy person can create a Flipbook without hiring technical help.
Desvantagens:
The integration of the sound files has been unreliable. The playback function (number of rotations set to 0) worked on a trial file but when I published the final for publication under the [SENSITIVE CONTENT HIDDEN] primatur, it repeated after every page.
Rachel H.
Director of Communications, EUA
Gestão da educação, 201-500 funcionários
Usou o software para: Mais de dois anos
Alternativas consideradas:
Professional Qulity
Comentários: We needed a cost-effective solution for making interactive documents for families. This was the perfect solution. The software provides outstanding, professional results.
Vantagens:
The software is very easy to use and provides beautiful interactive documents that really highlight material while making the content user-friendly.
Desvantagens:
We would love to see additional templates.
Rebecca S.
Senior Director, Product, EUA
Saúde, bem-estar e condicionamento físico, 11-50 funcionários
Usou o software para: 1 a 5 meses
Alternativas consideradas:
Good End Results, Ok User Experience
Comentários: The end product is nice and easy to integrate into our website. The experience has positives and negatives.
Vantagens:
Customization of the interface, ease of export in different formats
Desvantagens:
The user experience feels antiquated - the mac version I hav of Flip PDF Pro looks like it's from 15 years ago and is difficult to navigate. The user manual doesn't include all of the answers that I needed upon trying to make my first few books and I had to figure it out myself which took a lot of time.